travel
The Pirate's House.
Saturday, July 27, 2013
Savannah, Georgia is known for being a very haunted city.

More than one local has claimed to see a ghost at one time or another, and tv shows like 'Ghost Hunters' are constantly harassing local businesses for permission to contact the paranomal.
I'm not one for ghosts or being spooked, but when a haunted building happens to be home to to a restaurant like the historic Pirate's House, a leisurley lunch becomes too much for even me to pass up.
With high expectations, (because of the food and the possibility of ghosts), we drove to the Pirate's House for a late lunch.



The Pirate's House isn't reservation only, but it's always a good idea to plan ahead.
My uncle (a chef at the restaurant!), reserved us a private room in the back.
It's the prettiest room in the restaurant, but I'm sure we got the room only so our antics would go unnoticed.

Menu's were promptly set before us, but our hunger couldn't stop us from truly embracing the atmosphere.
You just HAVE to look like a pirate to eat at the Pirate's House, right?

While my brother stuck to the simple stache, my cousin Griffin took the phrase 'Go Big or Go Home' to heart.
He makes quite a terrifying pirate, doesn't he?
I'm not quite as scary as Griffin, but I do think I could pull off a stache. (See me nodding in approval?)
While we played with our props, the waiter brought us copious amounts of biscuits and corn bread muffins.
Who needs any lunch after such tasty appetizers? When they say people in the south know how to make biscuits and corn bread, they weren't kidding.
Even though the appetizers were good enough to make you drool and keep you full until dinner, I still saved some room for lunch. Wasn't that nice of me?
After we ate our weight in biscuits and muffins, we finally ordered our entrees, and the main shows arrived.
Salmon Salads, BLT's, you name it, we ate it. I could continue on for paragraphs about the food and atmosphere, but brevity is usually much appreciated.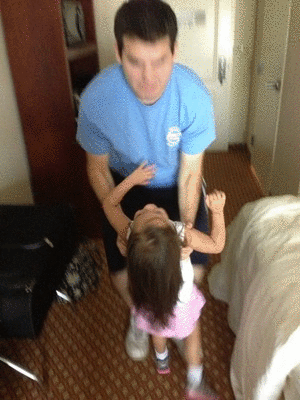 So: In a nutshell, this restaurant is full of southern food (and much more) that will make you jump for joy. (See my cousin in the picture above for proof that the food really does make you literally jump!)
If you're ever in Savannah, pop over to the Pirate's House for a true taste of the south and a little bit of history. I'm still not sure what I liked more: the food, the company or the lovely props they give you. We'll call it a draw.
Do you try to eat at local restaurants while on vacation?
Have you ever gone anyone that is supposed to be haunted?