The Sunshine Award!
Thursday, August 22, 2013
So, Charlotte at Commitness to Fitness nominated me for the Sunshine Award!!
The award is given to bloggers who brighten your day. I have been MIA lately, but I had to take some time to answer Charlotte's great questions! Charlotte seriously made my day, so here I go!
1. Include award logo in a post or on your blog (see above).
2. Link to the person who nominated you. (The Lovely Charlotte)
3. Answer 10 questions about yourself. (See below)
4. Nominate 10 bloggers to receive the award. Link your nominees to the post and comment on their blogs letting them know they've been nominated.
So without further ado, let's get to Charlotte's questions:
What is your favorite dessert?
2. If you could only go to one website for the rest of your life, what would it be?
Every type of food imaginable and tons of crafts (you'll never make), recipes (you'll never cook) and clothes (you'll never buy), these sites are ideal.
3.
If you could live in any time period, when would it be?
The 1920's or 1790's. That way I could either party with Gatsby or marry Mr. Darcy.
4.
Whats your favorite motivational quote (more than one is acceptable, if you can't choose)
The 'more than one is acceptable' is a life saver for those who are indecisive like me. It's a miracle I kept it to 3.
4. Whats your favorite type of food to get when you eat out?
Salad, grilled chicken or anything Greek. I'm a hummusapian!
5.
Describe yourself in 2 words.
Ooh, this is a tough one Charlotte! I guess I would have to say happy and thoughtful.
6. How many different states (or countries or territories or provinces) have you lived in?
7. Who is your favorite athlete?
McKayla Moroney. Just cause. She's so amusing.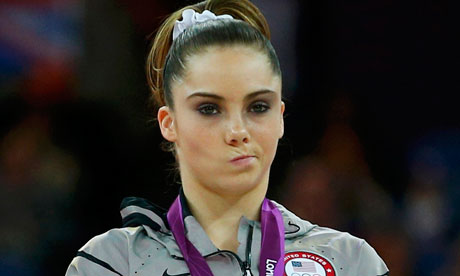 8. Would you rather read or watch TV?
Read! No brainer. Except some days I'm really nerdy and just want to watch Star Trek. Also, I sometimes read AND watch TV. Yes, it's possible. I'm a multitasker.
9. What type of shoes do you have on your feet right now
I would like to nominate everyone, but I can't so here are just 10 (If you want to do this, please do!):
What is your favorite meal?

What's your favorite season?

What are you currently obsessed with?
What are you reading?
Flats or heels?
Are you a morning or night person?
What's your favorite pin on Pinterest?
What's a song you can't get out of your head?
Who is the last person you talked to?
What are 5 things you can't live without?
Your turn! Pick a question and answer in the comments!