International Day of the Girl: Meet Kimberlee Anne
Sunday, October 11, 2015

"You can tell who the strong women are. They're the ones you see building up one another instead of tearing each other down."

Kimberlee reminds me of a Ben Howard song. She's beautiful and soft. She's calming and peaceful,
yet she is incredibly strong. She leaves you better than she found you. She leaves you feeling incredibly happy and loved.

She has a gentle and kind way about her that makes it nearly impossible to dislike her. If she was a song, you'd never stop listening to her.




Ben Howard doesn't use spectacular light shows or expensive videos. It's just him and his guitar. That's Kimberlee. She's not putting on an incredible light show or any type of facade. She's something real in a world where something real is a very rare thing to find.

While Ben Howard's songs sound beautiful the second they begin, they have a sort of beauty that creeps up on you as well. The more you listen to his songs, the more you realize how beautifully complex they are. They sound so simple, raw and real, yet they have hundreds of dimensions. Kimberlee is like this as well.

When I first stumbled across Kimberlee online, I thought she was absolutely gorgeous. As I got to know her personality, however, I realized that she too has so many dimensions. She is witty. She tells people how much she appreciates them. She lifts others up. She's smart. She isn't just a pretty face. Because her beauty isn't skin deep. It's a kind of beauty that I hardly know how to describe.

She's beautiful when she builds other women up. She's beautiful when she finds beauty in everything, whether it be on the mountaintop or in the coffee shop in the valley below. She's beautiful like your favorite song because she doesn't need you to tell her that she's beautiful. She's going to keep conquering the world whether you like it or not.


Hey my name is Kimberlee Anne!
I live in the PNW and am living life to the fullest I possibly can.
I definitely have BIG dreams and WILL accomplish all of them, just watch me!

Who is the most inspiring woman in your life?


The most inspiring woman in my life would have to be my grandmother. My grandma is the most down to earth person anyone could ever meet. We share a lot of the same passions such as the itch to travel and explore the world as much as we can. She is very into music and loves being outside exploring, much like I do. My grandparents live on a huge property with a pasture and creek, and ever since I was little I've enjoyed the ability to run free and explore there. I believe she is part of the reason why I love nature so much and feel the need to explore today. She is constantly pushing me to do what I love and to not conform to what others want me to love. She is by far the most supportive person in my life, but isn't afraid to help guide me in the right direction when direction is needed.
What accomplishment are you most proud of?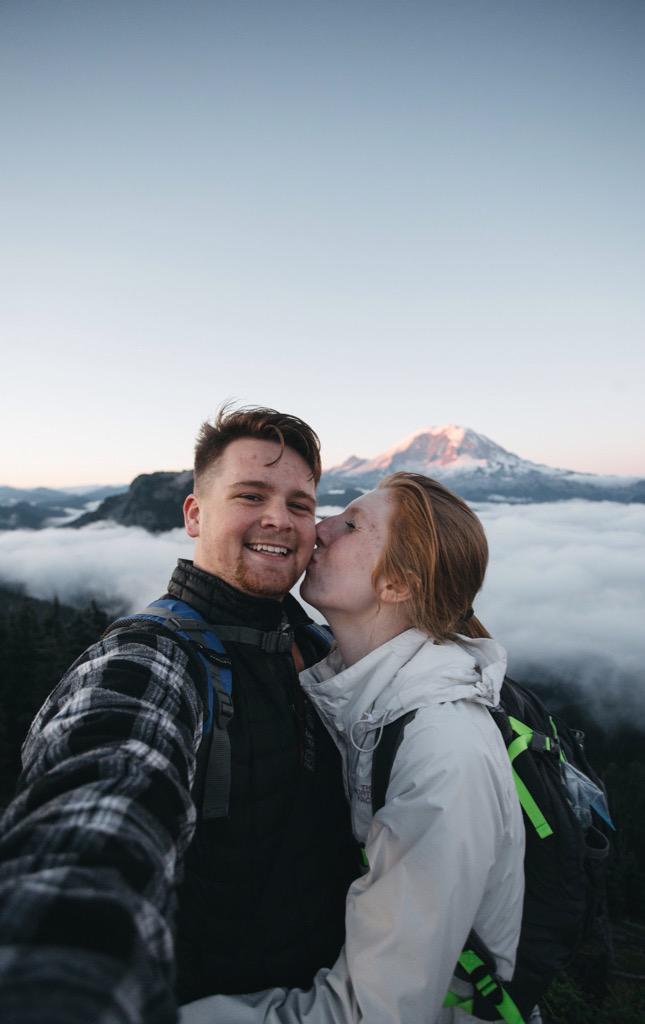 In my life I have had many accomplishments, some greater than others. The accomplishment I am most proud of would have to be getting accepted into the Running Start program at my high school. I am not proud of this accomplishment because it means I am smart or that I get to attend college classes instead of high school, I am proud of this accomplishment because it is the reason for my personal development and growth. It also introduced to so many extraordinary people. If it wasn't for me attending Pierce College instead of my high school, I never would have gotten so close with my best friend and boyfriend, Cameron. My life wouldn't be nearly as amazing and spontaneous as it is now if it weren't for me entering this program for schooling rather than the normal curriculum.
Have you ever faced gender based discrimination?


Personally I have never faced gender based discrimination. I know that is a huge problem in the world today and I know people who have experienced it. I have just been lucky enough not to have had faced it myself.

What's something all women should know?


Last but definitely not least, all women need to know that they are beautiful. No matter what, there will always be people out there who say negative things about your personality or your appearance, but they are wrong. All woman are beautiful in their own way, and the key to being happy is finding what makes you beautiful and embracing it. Learn to be confident with your own skin, because once that happens nothing can bring you down.
I promise.
Just learn to love yourself. You're worth it.
To learn more about International Day of the Girl,
click here.
"May you find happiness there. May all your hopes turn out right.
May you find warmth in the middle of the night." -Ben Howard